Surprise! I did not fall off the face of the Earth. I did however watch a movie about that this weekend... "Knowing" is weird. I'm not sure if I liked it. Anyway, so now I'm back from outer space and I just walked in to find you here with that sad look upon your face. You should have changed your stupid lock. You should have made me leave my key if you had known for just one second I'd be back to blog at, uh, you... Sorry. I swear I see my life as a musical.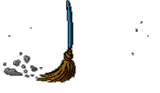 With spring in full swing here, I have been working on my spring cleaning. It's nice to be pulling things out and, after freaking out about how much crap there is under stuff, work on clearing out and cleaning up. It is hard going. The boys have been forced into slave labor, but I figure they can put it on their resumes one day: Used to Slave Labor. I'm confident they will get hired. Not to mention married if they say they know which end of a broom goes up. School? Bah! The real way to succeed is to show you can do what you are told.
I can't - case in point.
This week's schedule is packed: Errands today, doctor appointments in Cullman with a visit to PJ in there tomorrow, Thursday is supposed to be thunder storming so I think our hike is off, Friday is Dentist then G's birthday party (want to come?), Saturday is the geocaching party at E's, Sunday is church and such, Monday the Charter guys come to change over the phones and Tuesday is Austin's birthday so I'm moving errands to Wednesday. Whoo! Accordingly our menu has lot of crazy stuff in it to accommodate.
Tonight is Seafood night - Shrimp, Crab legs, Salad greens and Angelfood cake with Strawberries.
Wednesday - Cereal and smoothies
Lunch in Cullman
Roast with potatoes and carrots, homemade wheat rolls
Thursday - Sausage biscuits
CRV lunch/ sandwiches
Pizza for the guys, Pasta for me
Friday - Happy B-day G! - French Toast
G's Party lunch; Hotdogs, Chips, Giant Dill Pickles, Pineapple, Cake, Ice Cream
Cars Mac and Cheese for the guys, left over roast for me
Saturday - BLT&E(ggs) Sandwiches
Chili at E's
Date Night
Sunday - Church
Small group's Hamburger Grill out, Potato salad
Left overs
Monday - Cream of Wheat/Cereal
Sandwiches and Fruit
Crock Pot Chicken
Tuesday - Bacon and Eggs
Pizza at CEC
Lasagna for the guys, Chicken salad for me
I got out about 6 books for ME this week. I ran out last week and had to resort to TV the last couple days. Sigh. I really just don't like TV. I do however like the On Demand section of Free stuff. That is cool. After about 6 hours of TV this week (that is a LOT for me) I checked out books about
home improvement
,
Freezer cooking
, the
Glass Pantry
and the
Dinner & Movie Cookbook
. Party time!