The nasty cold virus that has been going around hit there this week. Lou went down on Tuesday and I'm feeling less than fun today. Since Lou was home and we had no where to go I couldn't resist some baking.
Take one can of pumpkin and make...
7 cups old fashioned oats

1/2 cup flax seeds or wheat germ

1 cup nuts (I use walnuts or pecans.)

1 cup sunflower seeds

2 T. cinnamon

1 t. salt

1 1/2 t. pumpkin pie spice
1/2 cup honey

1/2 cup maple syrup

3/4 cup canned pumpkin (not pie mix!)

1/4 cup cinnamon apple sauce

1 generous T. vanilla
Combine dry ingredients in a large bowl. Mix liquid ingredients and pour over dry. (I usually measure and mix the liquid ingredients in a 2-cup measuring cup.) Stir until well coated.
Place granola mixture into two lightly sprayed 9×13 baking dishes. Bake at 350 degrees for 20 minutes; stir and add craisins. Bake another 20-25 minutes or until evenly browned. Cool and store in an airtight container.
Use the the other half of the can to make ...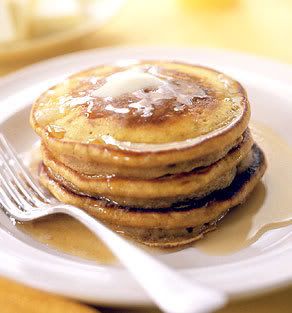 Quick Pumpkin Pancakes

2 cups Aunt Jemima Original Pancake Mix (May contain traces of milk so use
caution)
1 1/2 cups Almond milk
1 egg, beaten
1/2 cup canned pumpkin
1/2 t pumpkin pie spice

Mix all ingredients and cook on griddle until golden and cooked in the center.
Optional add ins: 1/4 c milled flax seed and/or 1 cup DF chocolate chips.
Hopefully, I will have enough left to not HAVE to cook again until I'm feeling 100% again.... or at least not so germy. :o)